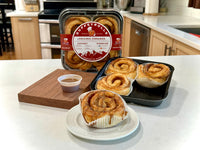 Duffeyroll Cafe Bakery
One Dozen Assorted Cinnamon Rolls
Contents: 
3 pans of 4 individual cinnamon rolls (1 dozen rolls)
Cups of glaze:
2 (2 oz) Cream Cheese
2 (2 oz) Maple Toffee
1 (2 oz) Zesty Orange
Cup of Toppings:
1 (2 oz) Toffee Bits
1 (2 oz) pecan pieces
Description:
Bake at Home Duffeyrolls are handrolled from our proprietary dough recipe into buttery, flaky rolls with a mouthwatering soft center. Our cinnamon rolls are crafted with Korintje cinnamon for a delicious treat anytime. Accented by our exquisite glazes, Duffeyrolls are a Colorado Taste Adventure that can be shipped anywhere.